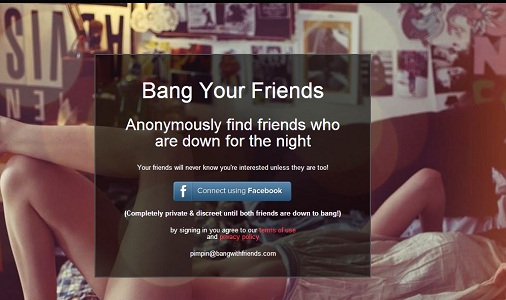 L'applicazione Bang with Friends è schizzata da 20.000 a 700.000 utenti in tre settimane. Niente male per quello che sembrava uno dei tanti giochi scemi che promettono sesso gratis su Facebook.
Se i numeri non mentono Bang with Friends ha totalizzato finora ben 130.000 matches date, tanto che i suoi creatori hanno deciso di aggiungere pure una tabella punti chiamata "bangability score" che a mio avviso fa vincere a BWF il titolo di app più trash di Facebook, almeno per il momento.

Ma le cose potrebbero cambiare  se sarà confermato che Bang With Friends diventerà una innocua app per incontri, non solo sessuali.
Il CEO di Bang With Friends, conosciuto solo come "C", continua a mantenere l'anonimato e intanto si lascia sfuggire qualche indiscrezione riguardo un cambio di rotta della popolarissima app.
Bang With Friends will not necessarily always be just about sex. Sex is an important part of our site but we are taking it to mean more than that in the future. We see this evolving as being used as a dating tool that everyone will want to use whether they're uncovering friends or people who are just interested in whatever activity they want. Our long-term vision is to help people strengthen their relationships in the offline world through more honest interactions.
Insomma Bang With Friends si evolverà in qualcosa di molto simile a un'app per il dating online, una specie di cupido virtuale che faciliterà incontri di tutti i generi, sessuali ma anche romantici.
Ma la gente continuerà ad usarla?