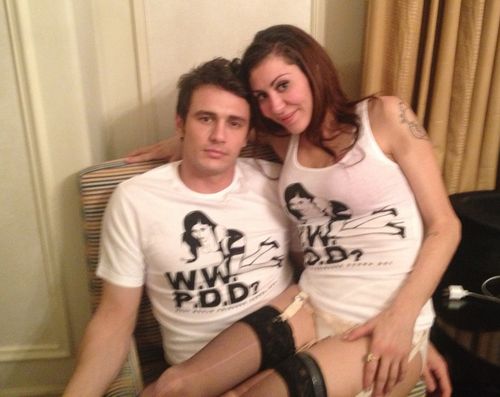 L'attore James Franco sta lavorando a un progetto top secret sul mondo porno bondage.
Secondo il Daily News, la star californiana ha in mente di girare un documentario sul sito Kink.com, la famosa community sadomaso e bondage, un vero e proprio punto di riferimento per chi pratica il BDSM. Il titolo del documentario sarà proprio "Kink", e raccoglierà le testimonianze di chi ama dominare e farsi dominare, per raccontare il piacere (e il dolore) del porno bondage.
James Franco ha raggiunto la fama internazionale grazie al ruolo di Harry Osborn nella trilogia di Spider-Man di Sam Raimi, ma alla carriera di attore ha sempre alternato quella come regista, con una forte preferenza verso i documentari. Ma cosa dobbiamo aspettarci da questo Kink?

Innanzitutto una buona dose di verità, visto che ad affiancare l'attore dietro la macchina da presa ci sarà la star dell'adult fetish Princess Donna Dolore, che si dice entusiasta di partecipare al progetto.
I think it's amazing that James Franco did a documentary about Kink, and isn't afraid to be associated with a BDSM porn company, like many mainstream actors would be. i hope that the film can humanize us "crazy pornographers" for people who don't fully understand what we do or why we do it.
From the very little i know of James, he doesn't seem afraid to push the boundaries; of art, of film, of sex, or of Hollywood, and I respect that kind of fearlessness above all else.
Ma per alcuni questa collaborazione non si limita solo al campo professionale. Tra i due infatti sarebbe nata una forte simpatia, tanto che la scorsa settimana la principessa del dolore ha regalato a James Franco una T-Shirt con la scritta "WWPDD?" (What Would Princess Donna Do?). Poi i due si sono fatti fotografare insieme con la stessa maglietta, in atteggiamenti molto affettuosi.
La foto, postata sul blog di Princess Donna, ha fatto subito la gioia dei gossip magazine. E dire che solo poche settimane fa, si parlava di un presunto fidanzamento di James Franco con Kirsten Stewart.
Ma una volta scoperto il piacere della frusta, il bell'attore californiano saprà farne a meno?
Photo | Princess Donna Blog